About Us
Dong Fang Garden is a Chinese takeaway in Eckington. Why don't you try our Jumbo King Prawn with Cashew Nuts or King Prawn Fu Yung?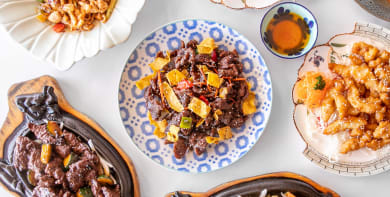 Reviews
240 reviews
Janis
"Delivered before earliest time. Garlic sauce lovely, both chicken dishes very tasty. Delivery person polite and smiling. Will order again from here."
19/07/2021
Tom
"Good food, consistent on time delivery."
19/07/2021
Amy
"Always fantastic food, delivered on time and never had any issues."
11/07/2021
Adrian
"Absolute banging!"
26/06/2021
Menu
Coca-Cola Original Taste 1.5L Bottle
£3.20
Coca-Cola Original Taste 330ml Can
£1.20
Hot Combination (For 2 Persons)
Spare ribs, vegetable pancake rolls, prawn on toast, seaweed, sweet & sour
Sesame seeds
Celery
£7.60
Salt & Pepper Mixed Platter For 2 Person
Spare ribs, chicken, king prawn, tofu & shredded beef
£10.80
Four Mixed Salt & Pepper Combination
Spare ribs, chicken wings, chicken balls & chips
£8.20
Deep Fried Salt & Pepper Mixed Meat
£5.80
Deep Fried Salt & Pepper Prawn
Crustaceans
£6.10
Deep Fried Wonton
Crustaceans
Sesame seeds
£4.00
Deep Fried Salt & Pepper Chicken Wings
Eggs
Sesame seeds
£4.80
Deep Fried Chicken Wings in Fruity Sauce
Eggs
Sesame seeds
£4.80
Satay Chicken on Skewers
Peanuts
Sesame seeds
£5.50
Sesame Prawn on Toast
Eggs
Sesame seeds
£4.80
Salt & Pepper Chilli Chips
£3.80
Mini Vegetarian Spring Rolls (8)
£3.00
Meat Spring Rolls (3)
Sesame seeds
£3.00
Prawn Crackers
Crustaceans
£1.90
Aromatic Crispy Duck Quarter
Served with pancakes, cucumber, spring onion & Hoisin sauce
£8.80
Aromatic Crispy Duck Half
Served with pancakes, cucumber, spring onion & Hoisin sauce
£17.10
Chicken & Sweetcorn Soup
Eggs
£3.00
Sweet & Sour Spare Ribs
Celery
£6.00
Spare Ribs in Honey Sauce
£6.00
Spare Ribs in Black Bean Sauce
£6.00
Deep Fried Salt & Pepper Chicken
Eggs
Sesame seeds
£5.80
Deep Fried Chicken in Fruity Sauce
£5.60
Chicken with Green Pepper in Black Bean Sauce
Molluscs
£5.60
Chicken with Bamboo Shoots & Water Chestnuts
£5.60
Jumbo Chicken with Cashew Nuts
Nuts
£5.80
Chicken with Ginger & Spring Onion
£5.60
Chicken with Orange & Cointreau Sauce
Celery
£5.80
Chicken with Mushroom
Molluscs
£5.60
Chicken with Bean Sprouts
£5.60
Chicken with Mixed Vegetables
£5.60
Grilled Chicken in Garlic Sauce
£5.60
Chicken with Oyster Sauce
Molluscs
£5.60
Chicken with Pineapple
Celery
£5.60
Chicken with Satay Sauce
Peanuts
£5.60
Kung Po Crispy Chicken
Hot & sour
£5.60
Thai Style Honey & Chilli Chicken
Nuts
£5.80
Chicken with Black Pepper Sauce
Molluscs
£5.60
Deep Fried Shredded Beef with Chilli Sauce
Eggs
£6.00
Beef with Green Pepper in Black Bean Sauce
Molluscs
£5.60
Thai Style Honey & Chilli Shredded Beef
£6.00
Beef with Ginger & Spring Onion
£5.60
Beef with Bamboo Shoots & Water Chestnuts
£5.60
Beef with Mushroom
Molluscs
£5.60
Beef with Oriental Sauce Beef
Peking sauce
£5.60
Beef with Satay Sauce
Peanuts
Nuts
£5.60
Beef with Mixed Vegetables
£5.60
Beef with Oyster Sauce
Molluscs
£5.60
Beef with Cashew Nuts
Nuts
£5.80
Beef with Black Pepper Sauce
£5.60
Roast Pork with Green Pepper in Black Bean Sauce
£5.60
Roast Pork with Bamboo Shoots & Water Chestnuts
£5.60
Roast Pork with Oriental Sauce
Peking sauce
£5.60
Roast Pork with Ginger & Spring Onion
£5.60
Roast Pork with Mixed Vegetables
£5.60
Roast Pork with Satay Sauce
Peanuts
£5.60
Roast Pork with Oyster Sauce
£5.60
Roast Pork with Cashew Nuts
Nuts
£5.80
Szechuan Double Cooked Sliced Pork
£5.60
Roast Pork in Black Pepper Sauce
£5.60
Roast Duck with Peking Sauce
£6.20
Duck with Green Pepper in Black Bean Sauce
£6.20
Duck with Orange & Cointreau Sauce
£6.50
Roast Duck in Cantonese Style
£6.50
Duck with Ginger & Spring Onion
£6.20
Duck with Thai Sweet Chilli Sauce
£6.20
Duck with Satay Sauce
Peanuts
£6.20
House Special Duck
Chicken, king prawn, char siu, beef, mixed vegetable, oyster sauce
£6.20
Duck with Oyster Sauce
Molluscs
£6.20
Duck with Black Pepper Sauce
£6.20
King Prawn with Green Pepper in Black Bean Sauce
Molluscs
£6.00
King Prawn with Bamboo Shoot & Water Chestnuts
£6.00
Jumbo King Prawn with Cashew Nuts
Nuts
Crustaceans
£6.20
King Prawn with Ginger & Spring Onion
£6.00
King Prawn with Mixed Vegetables
£6.00
King Prawn with Bean Sprouts
£6.00
King Prawn with Mushroom
Molluscs
£6.00
King Prawn with Oyster Sauce
Molluscs
£6.00
King Prawn with Satay Sauce
Peanuts
£6.00
Thai Style Honey & Chilli King Prawn
£6.20
Kung Po King Prawn
Hot & sour
£6.00
King Prawn with Cashew Nuts
Nuts
£6.20
King Prawn in Black Pepper Sauce
£6.00
House Special Curry
Crustaceans
Celery
£6.00
King Prawn Curry
Crustaceans
£6.00
Mixed Vegetable Curry
Celery
£4.60
Chicken Balls with Sweet & Sour Sauce
£5.60
King Prawn Balls with Sweet & Sour Sauce
Crustaceans
Celery
£6.00
Pork Balls with Sweet & Sour Sauce
Celery
£5.60
Sweet & Sour Chicken Hong Kong Style
Celery
£5.60
Sweet & Sour King Prawn Hong Kong Style
Crustaceans
Celery
£6.00
Sweet & Sour Pork Hong Kong Style
Celery
£5.60
Sweet & Sour Special Hong Kong Style
Crustaceans
Celery
£6.00
House Special Chow Mein
Crustaceans
Molluscs
Sesame seeds
£6.80
3 Kind of Meat Chow Mein
Chicken, roast duck & roast pork
Molluscs
Sesame seeds
£6.40
Chicken Chow Mein
Molluscs
Sesame seeds
£5.90
Beef Chow Mein
Molluscs
Sesame seeds
£5.90
King Prawn Chow Mein
Crustaceans
Molluscs
Sesame seeds
£6.30
Roast Pork Chow Mein
Molluscs
Sesame seeds
£5.90
Roast Duck Chow Mein
Molluscs
Sesame seeds
£6.70
Singapore Special Chow Mein
Eggs
Crustaceans
Molluscs
Sesame seeds
£6.30
Singapore Vermicelli Spicy Rice Noodles
Eggs
Crustaceans
Molluscs
£6.50
Mixed Vegetable Chow Mein
Molluscs
Sesame seeds
£5.50
Mushroom Chow Mein
Molluscs
Sesame seeds
£5.50
Fried Soft Noodles
With onion & bean sprouts
Molluscs
Sesame seeds
£4.20
House Special Crispy Noodles
Crustaceans
Molluscs
£6.80
King Prawn Crispy Noodle
Crustaceans
Molluscs
£6.80
Chicken Crispy Noodle
Molluscs
£6.30
Beef Crispy Noodle
Molluscs
£6.30
House Special Crispy Noodle with Sauce Black Bean
Peanuts
£7.00
House Special Crispy Noodle with Sauce Satay
Peanuts
£7.00
King Prawn Crispy Noodle with Sauce Black Bean
Peanuts
£7.00
King Prawn Crispy Noodle with Sauce Satay
Peanuts
£7.00
Chicken Crispy Noodle with Sauce Black Bean
Peanuts
£6.60
Chicken Crispy Noodle with Sauce Satay
Peanuts
£6.60
Beef Crispy Noodle with Sauce Black Bean
Peanuts
£6.60
Beef Crispy Noodle with Sauce Satay
Peanuts
£6.60
House Special Fried Rice with Sauce
Eggs
Crustaceans
£6.70
3 Kind of Meat Fried Rice
Chicken, roast duck & roast pork
Eggs
£6.30
Special Fried Rice (Dry)
Eggs
Crustaceans
£6.20
King Prawn Fried Rice
Eggs
Crustaceans
£6.30
Roast Pork Fried Rice
Eggs
£5.70
Shredded Duck Fried Rice
Eggs
£6.50
Singapore Special Rice
Eggs
Crustaceans
£6.40
Mixed Vegetable Fried Rice
Eggs
£5.30
Special Fu Yung
Crustaceans
£5.80
King Prawn Fu Yung
Crustaceans
£5.80
Chicken Omelette with Chips
£6.50
Mushroom Omelette with Chips
£6.00
Roast Pork Omelette with Chips
£6.50
King Prawn Omelette with Chips
Crustaceans
£6.90
Tofu with Green Pepper in Black Bean Sauce
£5.30
Tofu with Ginger & Spring Onion
£5.30
Jumbo Tofu with Cashew Nut
Nuts
£5.50
Stir Fried Tofu with Garlic Sauce
£5.60
Fried Mixed Vegetables with Cashew Nuts
Nuts
£4.70
Fried Mixed Vegetables with Sweet & Sour Sauce
Celery
£4.20
Fried Mushroom with Green Pepper
In black bean sauce
£4.40
Fried Bamboo Shoots & Water Chestnuts
£3.80
Fried Mixed Vegetables with Satay Sauce
Peanuts
£4.20
Szechuan Mixed Vegetables
£4.20
Ben & Jerry's Cookie Dough Ice Cream 465 ml
£5.99
Half Baked Ben&Jerry Ice Cream - 460ml
£5.99
Mushroom Surprise
Fried mushroom with chicken, pork, beef & king prawn in garlic & delicious oyster sauce
Crustaceans
Molluscs
£6.00
Black Bean Delight
Fried chicken, pork, beef & king prawn with green pepper in special homemade black bean sauce
Crustaceans
Molluscs
£6.00
Satay Supreme
Fried chicken, pork, beef & king prawn with green pepper & onion in oriental spicy satay sauce
Peanuts
Crustaceans
£6.00
Chicken & Pork
Fried marinated chicken & roast pork cooked in BBQ sauce
£6.00
Magic Chop Kam
Exquisite dish of king prawn, beef, chicken, pork, duck & vegetables cooked with garlic chilli sauce
Crustaceans
Molluscs
£6.00
Dancing Dragon
Exquisite dish of king prawn, chicken & vegetables cooked with garlic, special soy sauce & delicious Cantonese spices
Crustaceans
£6.00
Happy Families
Exquisite dish of beef, chicken, king prawn, roast pork & vegetables cooked with garlic, special soy sauce & delicious Cantonese spices
Crustaceans
Molluscs
£6.00
Chicken A La Shanghai
Whole breast of chicken cooked with pineapple, green pepper & onion in a special homemade fruity sauce
£6.00
Spicy Hoisin Sauce
Deep fried marinated chicken, beef, pork & king prawn with delicious homemade hoisin sauce
Peanuts
Eggs
£6.00
Dong Fang Garden Family Feast For 2 Persons
Hot combination
Aromatic crispy duck
Choice of any 2 main dishes
Special fried rice
Prawn crackers (crustaceans)
£30.00
Dong Fang Garden Family Feast For 3 Persons
Hot combination
Aromatic crispy duck
Choice of any 3 main dishes
Special fried rice
Prawn crackers (crustaceans)
£45.00
Contact Us
Find Us
78 Ravencar Road, Eckington, S214JN
We deliver to
S12, S18, S20, S21, S41, S43